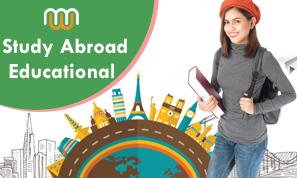 Importance of Study Abroad Website Software
This particular software is web based and it allows an individual to create his own study abroad website with convenience. It is designed in such a way that it helps its applicants to maintain their own website, keep program brochures online & up-to-date, accept applications online, and organize data. The product has incorporated user-friendly features needed to assist your online business process goals.
Advanced Study Abroad Website Script
The study abroad website script comes with a total package and has the high end integrated tools as well as inbuilt technical functionalities. There is a flexible front end and powerful backend control panel that facilitates buyers to create and maintain website content, upload photos, online videos and many more things. Our study abroad website program has been specially designed to allow buyers maintain and update information in the website quickly and easily. The product is easy to use & can be easily customized depending on specific business needs.
Themed Interface
Scriptgiant's Study abroad website software is customized & trouble-free to install. There are different screenshots of our present work that have been displayed here. These snaps tell about our innovative skill and professionalism in the pasture of software development. We have varied themes that can be modified depending on the requirements of business under the same roof, but giving it a totally different gaze.
HOME :

CITY, SUBJECTS & PROGRAM TYPE :

Home
Login/Sign In
Forgot Username
Forgot Password
Add New Listing
Sign Up/ Join
Member Profile

Edit Profile
Change Password
Change avatar
Favorite Places
Conversations
Settings
Create New Listing

Countries

Drop down list of Countries
Find a Program

Country/Region
City
Subject
Program Type

Reviews

Student testimonials
Write a review

Find a Program

Country/Region
Subject
Program Type

Cities

List of Regions (Like - Africa, Central America and Caribbean, Central Asia, East and Southeast Asia etc..)
Under Region – Lots of Cities

Featured E-Learning Study Abroad Programs under Each Progrems
Highlighted Sponsor Programs under Each Progrems
Program Type

Academic Year and Semester Programs
Summer Programs
Intensive Language Programs
Internship Programs
Volunteer Programs
Full Degree Programs
Graduate Programs
High School Programs
Intersession Programs
Teach Abroad Programs

Subjects

List of Subjects Under Menu
Sponsored Listings under each Subjects

RESOURCES :

MORE ATTRACTIVE FEATURES ARE INCLUDED :

Resources

Before Study Abroad

Deciding to Study Abroad
Talking to Your Parents
Where to Study Abroad
Program Types
Choosing a Program
Financial Information
Applying to a Program
Travel Documents/Information
Study Abroad Preparations
Packing for Study Abroad

During Study Abroad

Traveling Abroad
International Cuisine
Local Culture
Keeping in Touch While Abroad
Homesickness
Safety
Study Abroad Tips
Student Stories

After Study Abroad

Life After Study Abroad
Now What?
Career Information

Student Blogs
Scholarships

Different types of Scholarships List

List of Top Destinations
Newsletter
Advertise with us
Study Abroad Advisor Information
Update your programs
Featured Destination
Programs by Country
Explore by Subject
Students Guide
FAQs
Social Media Icom Intregation (like - Facebook,Twitter, linkedIn etc)
Backend Features
ADMIN :

MORE CMS PROGRAMS ARE INCLUDED :

Password Protected Admin
Login
Change Password
Forgot Password
Content Management System

Add/Edit/ Delete Content
Content List

Program Management

Program List
Add Program
Delte Program
Edit Program

Subject Management

Subject list
Add Subject
Edit Subject
Delete Dubject

Reviews Management

Student testimonials List
Write a review
Approve Review

Location Management

Country List
Add New Country
States List
City List
Add New City

Current Issue

Issue List
Issue Add

Database Backup
Blog Management
View all billing transactions
Feedback Management

Feedback List
Approve feed back

Students Guide Management

Add/Edit/Update

Scholarships Management

Scholarships List
Add New Scholarships
Delete Scholarships

Orgnaistion Mangemant

Add new Organisation
Organisation list

Site Map Management

Site Map List

FAQ Management

Faq List
Add/Edit/Delete

Enquiry Management

Enquiry list

Banner Management

Banner List
Add/Edit/Delete
Study Abroad Educational Front End Member Login Credential
Study Abroad Educational Software has been designed integrating all possible features and security issues. Before purchase, please get a view of the front end & backend demo and details features list of this product.
Front End Member login details:
Username: pritamnath@scriptgiant.com
Password: 123456

Send a request to get admin login Contact Us
In order to install Study Abroad Educational Website in your system, the atmosphere should meet the support with following technical basics:
Apache version 2.0 or higher with mod_rewrite module enabled (allow override option should be set to the all value for the installation directory).
PHP 5.2.6 or higher with disabled safe_mode and open_basedir restrictions.
MySQL version 4.1 or higher. Version 5.x is recommended.
CURL PHP library.
Mcrypt PHP library.
Latest Version Ioncube Installed
Minimum recommended memory available for PHP: 128 Mb
Our technical support team is ready to give you installation and post installation support. Please feel free to mail us: info@onesourcesoftware.biz
MMe technologies, has in store a wide galore of PHP based scripts for small and medium businesses across different domains. With our ready made software, it will be easy for entrepreneurs to develop a web portal and connect with their clientele. Apart from this, we also provide customized solution for businesses, where we develop a website or script.
For the ready made script, we deliver the software only after the client has provided us with the details of the CPanel. Both the script and new projects, we provide have a single domain license and for this the client has to provide us the domain name. We provide the license file for that particular domain. The process that we follow for delivering the project are:
Install the software in the CPanel provided by the client
If the client intends to install the software then we provide a Zip file of the same
No charge for installation
In case, of any difficulty while installing the software, clients can contact us and we will provide you assistance. Irrespective of the nature of the project, we deliver the project within the stipulated time-frame. Through our services, we ensure a good experience for our clientele and look forward to a long-lasting business relationship.
Send Enquiry to info@mmetechnologies.com or call us : +91 7890-222 444 / +91 98300 31563
Our working strategy is a truly an interactive environment with our clients. We understand the value of time and strive to take the burden on our shoulders to accomplish the work in real-time. The development of the project is considered complete when you are thoroughly satisfied with the end result. We will fully support and always consult with you on new technologies that would provide maximum results.
Our Working Process
For Ready product, We will upload configure the buyer server once we receive full payment with in 24 hrs.
For custom product or customisation any product, We need time 7 days to 30 working days as per list of customisation and agreed budget with buyer.
All our daily work progress will be uploaded to one of our development server and you will get a link to check the progress.
We have weekly reporting system – Where the team leaders of the respective projects will update about the status and progress of the projects.
You can check the work and submit your feedback there – Our respective team member will get your feedback in their mail and report system message board.
For any kind of consultation you are free to talk with our project leader and with me at anytime

info@onesourcesoftware.biz