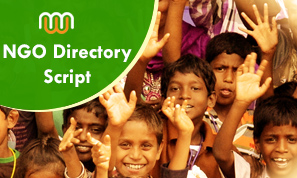 Get Your Own NGO Directory Website Setup Instantly!
Today creating a SEO-Friendly NGO directory website is no more a hassle for anyone with the help of NGO directory script. We have developed this script with 100% source codes and license file for each domain. It is considered as a perfect business tool for those who have a keen interest to build a NGO Directory website of their own by just few clicks of button.
With the assistance & support of the NGO listing site script, a buyer will be able to establish a powerful online directory platform and run his own directory website easily through a secured admin panel. Never before has it been so easy to create your own NGO directory and market it online with zero technical knowledge at a cost effective price.
Make Your Website & Member Management Easy With NGO Management Software
The NGO management software plays a vital role in helping the buyers to manage the entire website along with the member's management thereby making NGO management system easier & quicker. A buyer can customize, modify & maintain the website anytime as per his business requirements.
This php based product includes all the professional features, in-built tools & functionalities that a buyer needs to create quality NGO global & local business directory websites with ease. You can personalize your website with own logos, images, texts, chose colors & customize themes as per your business needs. It is a readymade product, once installed you can get started with your own non-profit organizations directory website.
What can you get?
Create a professional looking NGO directory website in minutes

Fully customized website designs

You can post a project

Donate for project

Donate for anything

Set up the directory listings with basic information such as titles, descriptions & other special options like featured listings

Setup your own membership packages & earn money from your website visitor's submissions

Integrated social media integration

Advanced search functionalities

Individual calendar for all users

24/7 access to the database

Awareness program online & offline

Product upload & sell

SEO-friendly URLs

Multilingual support
Thus, website design for charities & NGO industry has been designed & developed to allow buyers get a readymade solution to setup their own directory website in no time. There are no hidden fees, as such, update packages is free within 12 months, free copyright removal & lifetime license.
HOME:
DONATE :

Home
Login
Sign Up as –

Member Profile

Edit Profile
Change Password
View Donation History
View organization List
Add Reference
Auction Details

Menu wise Search Form

Find NGO Projects
Search Religious Projects
Search Historical Place Projects
Search Personal and Group Projects
Job search

List Recent Charity
Recent Opportunities
Current Issues
Shop of the Day
Urget Help
About Us

Donate For Projects

NGO Projects
Religious Projects
Historical Place Projects
Personal and Group Projects

Donate Anything

General Goods
Food to Eat
Auctionable Goods
Self-Organ Donation
On Request

List of Things Available

Details Page
Booking Now Button/Book Now

Get Involved

Committee Membership Sign Up Form
Member For Donation & Sign Up
Share Your Project

Awareness

Offline Awareness

Upcoming Campaigns/Events

Online Awareness

MORE ATTRACTIVE FEATURES ARE INCLUDED :
PRODUCT LISTING PAGE & MORE :

Share Information Form
Opportunities

Full time/Per Time Jobs

Subscribe for job updates
Jobseekers

Free Registration
Premium

Recruiters

Register for free with logo
Find Job Seekers

RFP & EOI
Internships List
Volunteers List
Consultancy List

Shop for Help

View All
Peoduct List By "Top Products"
Caused Based Products
Religious Products
Traditional Products
Auction

Product Listing Page

View Details With Contact Information
Buy A Single Item
Buy Bulk Item
Gift Item
Shopping Cart

Partnership

Corporate Partnership
Alliances

Help
Complaints and Suggestions FORM
NGO Help
Various Proposal Forms
Donate Now Button & Advanced Donation Forms
Blog
Post A Project
FAQ
Contact Us
Backend Features
ADMIN :
DIFFERENT MANAGEMENT FEATURES :

Password Protected Admin
Login
Change Password
Forgot Password
Content Management System

Add/Edit/ Delete Content
Content List

Location Management

Country List
Add New Country
States List
City List
Add New City

Partnership Content Management

Corporate Partnership
Institutional Alliances
Educational Alliances

Donate Anythings Management

Request List
Things Available
Good Category List
Good Category Add
Self Organ Donation

Help Management

complaints & suggestions List
Support For Ngo
Promostional Tech Support

Product Management

Product List
Add New Product
Auctionable Product List
Auctionable Product Add

Order Management

Order List

Project Manegment

Project List
project
Gallery
Gallery Add
New Project

Category Management

Add/Edit/Delete

Donation management

JOB OPPOTUNITIES, NGO & AWARENESS MANAGEMENT
MORE ATTRACTIVE CMS FEATURES ARE INCLUDED :

Job Opportunities Management

Job List
New Job Add
Job Sector
Job Sector Add
Job Seeker List
Job Seeker Add

NGO Management

Ngo Member list
New Ngo Member
Tax
Organisation
Cause List
Cause Add
Ngo pogram list
Program add

Awarness Management

Online Awarness List
Online Awarness Add
Offline Awarness List
Offline Awarness Add

Feedback Management

Feedback List

Current Issue

Issue List
Issue Add

Banner Management

Banner List
Add/Edit/Delete

Enquiry Management

Enquiry list

FAQ Management

Faq List
Add/Edit/Delete

Site Map Management

Site Map List

Urgent Help management

urgent help list
urgent help add

Database Backup

Orgnaistion Mangemant

Add new Organisation
Organisation list

Blog Management
NGO Directory Script Front End Member Login Credential
NGO Directory Script Software has been designed integrating all possible features and security issues. Before purchase, please get a view of the front end & backend demo and details features list of this product.
Front End Member login details:
Username: asharam1@scriptgiant.com
Password: 123456

Send a request to get admin login Contact Us
In order to install NGO Directory Script Website in your system, the atmosphere should meet the support with following technical basics:
Apache version 2.0 or higher with mod_rewrite module enabled (allow override option should be set to the all value for the installation directory).
PHP 5.2.6 or higher with disabled safe_mode and open_basedir restrictions.
MySQL version 4.1 or higher. Version 5.x is recommended.
CURL PHP library.
Mcrypt PHP library.
Latest Version Ioncube Installed
Minimum recommended memory available for PHP: 128 Mb
Our technical support team is ready to give you installation and post installation support. Please feel free to mail us: info@onesourcesoftware.biz
MMe technologies, has in store a wide galore of PHP based scripts for small and medium businesses across different domains. With our ready made software, it will be easy for entrepreneurs to develop a web portal and connect with their clientele. Apart from this, we also provide customized solution for businesses, where we develop a website or script.
For the ready made script, we deliver the software only after the client has provided us with the details of the CPanel. Both the script and new projects, we provide have a single domain license and for this the client has to provide us the domain name. We provide the license file for that particular domain. The process that we follow for delivering the project are:
Install the software in the CPanel provided by the client
If the client intends to install the software then we provide a Zip file of the same
No charge for installation
In case, of any difficulty while installing the software, clients can contact us and we will provide you assistance. Irrespective of the nature of the project, we deliver the project within the stipulated time-frame. Through our services, we ensure a good experience for our clientele and look forward to a long-lasting business relationship.
Send Enquiry to info@mmetechnologies.com or call us : +91 7890-222 444 / +91 98300 31563
Our working strategy is a truly an interactive environment with our clients. We understand the value of time and strive to take the burden on our shoulders to accomplish the work in real-time. The development of the project is considered complete when you are thoroughly satisfied with the end result. We will fully support and always consult with you on new technologies that would provide maximum results.
Our Working Process
For Ready product, We will upload configure the buyer server once we receive full payment with in 24 hrs.
For custom product or customisation any product, We need time 7 days to 30 working days as per list of customisation and agreed budget with buyer.
All our daily work progress will be uploaded to one of our development server and you will get a link to check the progress.
We have weekly reporting system – Where the team leaders of the respective projects will update about the status and progress of the projects.
You can check the work and submit your feedback there – Our respective team member will get your feedback in their mail and report system message board.
For any kind of consultation you are free to talk with our project leader and with me at anytime

info@onesourcesoftware.biz