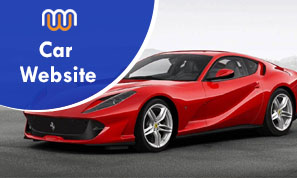 Readymade Car Website Script
This is a tech-savvy world and to make your automobile business no.1 today, you are in certain need of a car business website. You cannot help but agree when you know all about Scriptgiant's PHP car script and its advantageous features and tools. The readymade car website script has its most special feature in helping the buyer get high search engine rankings. This facilitates higher exposure of the buyer's business in the World Wide Web and correspondingly more customers and higher rates of turnover. The car website will be fruitful for car business owner & car dealers.

To help millions of car business owner and car dealers explore their business online Scriptgiant has developed an effectual ready made car website script. It is power packed, search engine friendly and complete. The high end technical features form the basis for building a car website portal with ease. For internet startups this car website script is a good resource of earning and the most economical way of building their own car website.
Our website script is very special because it will help the buyers to get higher search engine rankings and earn lucrative income at a cost effective price. It is an amazing product that can be installed instantaneously and get a website that would be both eye-catching as well as user friendly.It facilitates best outputs for users. The product comes with some of the unique features like categorizations of models depending on type, style, rewriting of listings for each page, advance search facilities, image gallery and lots more.

Key Benefits
Create a Platform to Sell Your cars and auto online
Run a website with full high end front end & special features
Utilize it as a weapon for SEO
User friendly & easy to manage website
Advertise ads on your website
Great Earning opportunities with low pocket savings
Running a high-end website and building a solid online presence
Capitalizing on better sales opportunities and higher profit by using SEO tools
Integrating advertisement features

Creating more revenue stream Our Script is language adaptable which means a buyer can easily run the script in any language he prefers like English, French, Italian and so on. Hence our car website script gives buyers opportunities to run this PHP script in their native language. It is a wonderful product launched by Scriptgiant Technologies that allows its users to set up a car website of their own fast and start earning handsome income on regular basis.

Themed Interface
Scriptgiant's Car website software can be easily installed and customized. There are arrays of screenshots of our client's websites displayed here. The snaps show our creativity and excellence in the field of software development. We have different themes for your car websites that can be tailored under the cover but it gives a completely different look.
Front End Features:

Dealer Account Features:

Nice & unique new theme
Top header menus
Sign In | Sign Up | Forgot Password
Facebook Login
Header Menus
Country dropdown to change country
Contact for Car
Add to wish list
Social Share
Related cars
Normal User Registration
My Profile
Saved Car
My Details
Edit Profile
Car Listing Registration
Dashboard
My Listing
My Account
Change Password
Advertisement
Promotions and Newsletter
Admin must be capable to create different newsletters and send them to different user groups.
Payment Option
Footer Menus
Terms and Conditions
Service Provider Agreement
Privacy Policy
FAQs
Social Media Link

Car
Add/ Edit/ Delete (Add car: city and category wise)
Upload car Image
Category
Truck
Automobile
Sub category management
Ads Management
Search Car
By Model
By Brand
By Price
By Location
By Dealers
Advance search
Most Popular model listing
Car listing
Refine search
Sort by price, recent, old
Car details
Multiple image with slider
Contact to seller
View details
Related cars
Google ads
Latest Ads
Latest/ popular search
Static Page CMS
Contact US
Users Login
Company
Individual
Dealers listing
Backend Features
Admin Features:

Special Features:

Login: Separate area for the admin login with a unique username and password.
Dashboard: Here, admin will find the link to browse different modules.
Graphical charts for Properties
Total Properties posted
Total Active Property
Total Inactive Property
Graphical charts for members
Total Owner
Total Agent
Total Builder
My Account: From this section admin will be able to update his/ her information.
Page Management: Here, admin will find the list of all the pages. Along with the given below options:
Edit
Publish/ Unpublished
User Management: Here, admin will find the list of all the registered user with the following options:
Sort user by category (Company/ Individual)
Add new user
Update the information of existing user
Block the user
Contact user
Cars Management
Category Management

Ads Management: Here, admin will find the list of all the ads banners. Also admin will have the following options:
By country
By car type
By brand
By position
Location Management
Add Location
Edit Location
Delete Location
Configurations
Highly configurable site parameters
Configure Website name/keywords/ /address, currency etc.
Switch ON-OFF email verification process
Met tag and meta description setting
Account setting
Site Under maintenance – On/Off
FAQ Management
Newsletter
Sitemap Setting
Social Links management
Car Website Script Front End Member Login Credential
Car Website Script Software has been designed integrating all possible features and security issues. Before purchase, please get a view of the front end & backend demo and details features list of this product.
Front End Member login details:
Username: demo@demo.com
Password: demo

Send a request to get admin login Contact Us
In order to install Car Website Script in your system, the atmosphere should meet the support with following technical basics:
Apache version 2.0 or higher with mod_rewrite module enabled (allow override option should be set to the all value for the installation directory).
PHP 5.2.6 or higher with disabled safe_mode and open_basedir restrictions.
MySQL version 4.1 or higher. Version 5.x is recommended.
CURL PHP library.
Mcrypt PHP library.
Latest Version Ioncube Installed
Minimum recommended memory available for PHP: 128 Mb
Our technical support team is ready to give you installation and post installation support. Please feel free to mail us: info@onesourcesoftware.biz
MMe technologies, has in store a wide galore of PHP based scripts for small and medium businesses across different domains. With our ready made software, it will be easy for entrepreneurs to develop a web portal and connect with their clientele. Apart from this, we also provide customized solution for businesses, where we develop a website or script.
For the ready made script, we deliver the software only after the client has provided us with the details of the CPanel. Both the script and new projects, we provide have a single domain license and for this the client has to provide us the domain name. We provide the license file for that particular domain. The process that we follow for delivering the project are:
Install the software in the CPanel provided by the client
If the client intends to install the software then we provide a Zip file of the same
No charge for installation
In case, of any difficulty while installing the software, clients can contact us and we will provide you assistance. Irrespective of the nature of the project, we deliver the project within the stipulated time-frame. Through our services, we ensure a good experience for our clientele and look forward to a long-lasting business relationship.
Send Enquiry to info@mmetechnologies.com or call us : +91 7890-222 444 / +91 98300 31563
Our working strategy is a truly an interactive environment with our clients. We understand the value of time and strive to take the burden on our shoulders to accomplish the work in real-time. The development of the project is considered complete when you are thoroughly satisfied with the end result. We will fully support and always consult with you on new technologies that would provide maximum results.
Our Working Process
For Ready product, We will upload configure the buyer server once we receive full payment with in 24 hrs.
For custom product or customisation any product, We need time 7 days to 30 working days as per list of customisation and agreed budget with buyer.
All our daily work progress will be uploaded to one of our development server and you will get a link to check the progress.
We have weekly reporting system – Where the team leaders of the respective projects will update about the status and progress of the projects.
You can check the work and submit your feedback there – Our respective team member will get your feedback in their mail and report system message board.
For any kind of consultation you are free to talk with our project leader and with me at anytime

info@onesourcesoftware.biz