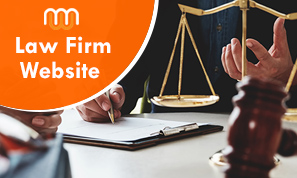 Best Business Solutions for Law Firm
Are you a lawyer? Do you have your law firm? Are you missing out potential clients?
Then best business solution for your law firm will be to take it online. To get it online the most important thing is to build your own law firm website. And in order to build your own law firm portal we will support you with everything that is necessary to boost your services as a lawyer online.
Building your own law firm will no more be a tough task with the help of our sophisticated law firm management software. The software is developed with 100% source codes and license file for each domain. It comes with a complete feature loaded package.
Get Started with Stunning Law Firm Website design
A buyer will be able to design & develop a professional and attractive looking law firm website design with the help of lawyers website script. No programming knowledge is required as the product has been designed keeping in mind about a layman. It will help a buyer to setup his own website in a matter of minutes and achieve your business goals.
With large & highly customizable set of key features the software will allow buyers to easily get a site ready & running within 24 hours. It is therefore a readymade & bug free product that is easy to install & manage through a secured admin panel. Installation & technical support is 100% free.
What can you get?
Design & develop outstanding law firm website

Easily track, update & assign tasks

SEO Friendly URLs

Customizable Meta tags

Add/edit/delete & manage locations

Admin will be able to view all the listings in a snapshot

Calendaring

Case management

Store unlimited number of documents of any type to your case files

Instant messaging system

Dynamic data capture

Simple time & legal billing features

Create professional invoices
Thus, the software for practice & case management for lawyers will provide buyers a convenient method of effectively managing clients & case information including contacts, calendaring, documents & other specifics by facilitating automation in law practices. This php based product will be beneficial for small, medium & large law firms. There are no hidden fees, update packages is 100% free, free copyright removal & lifetime license.
HOME:

MORE ADDITIONAL FEATURES :

Home
Login/Sign In
Forgot Username
Forgot Password
Region Wise Domain
Multiple Language
Advanced Search

By area of law(Choose from a list)
By Name
By Address

Understand Your Legal Issues

By Practice Area
By Life Events
By Location

Ask to Legal Question

Ask Lawyer
Legal Forum
Lawyer Blogs

Find a Lawyer

Browse Law Firms by Popular AREA OF LAW
Browse Law Firms by Popular BY STATE
Browse Law Firms by Popular BY CITY

Calendar
Legal Documents Store
Online Appointment Form
Legal Plans & Services
Case Studies
Cost Calculator
Legal Needs Test
Tracking

Matter tasks, documents and deadlines Tracking

Additional Features

Company information
Contact Information
Areas of Practice
Related Site Links
Announcements
E-forms for information requests, contact, etc.
Private Labeling(Branding) of Websites
Employment Opportunities
FAQs
Company Photos/Events Gallery
SEO Keyword/Meta tag Fields
Public & Private/Employee Side
Separate Public & Private Home Page
Surveys
Unlimited Online Documents
Email Bulletins
Company Bios
Backend Features
ADMIN:

MORE ADDITIONAL BACK END MANAGEMENT FEATURES :

Password Protected Admin
Login
Change Password
Forgot Password
Lawyer Management

List of Law Firm
Add a Lawfirm
Delete/Edit Member

Practice Management

Practice List
Add New Practice
Edit/Delete Practice

Case Studies Management

Case Studies List
Add Port Folio
Edit/Delete Portfolio

Employment Opportunities

Employment list
Add Employment Opportunity

FAQs Mnagement

FAQ List
Modify FAQ

Banner Management

Banner/Photos/Logos List
Add New Banner/Photos/Logos
Edit/Delete Banner/Photos/Logos

Documents Management

List of Legal Documents
Add Documents
Edit/Delete Documents

Content management

Total Content List
Add Content
Edit/Delete Content

Appointment Management

List of Appointments
Appointments Status

Tracking Management

Track the status of key matter tasks, documents and deadlines
Create "exception" reports to identify missing documents and unfinished tasks
Assign tasks to individual attorneys, paralegals or other staff members and set deadlines
Integrate with third party applications to import data relevant to pending matters

City Management

City List
Add City
Edit City
Delete City

Blog management

Blog list
Add Blog
Edit Blog
Delete Blog

Site Setting

Site Setting
Admin menu Setting
Law Firm Website Front End Member Login Credential
Law Firm Website Software has been designed integrating all possible features and security issues. Before purchase, please get a view of the front end & backend demo and details features list of this product.
Front End Member login details:
Username: demo@demo.com
Password: demo

Send a request to get admin login Contact Us
In order to install Law Firm Website in your system, the atmosphere should meet the support with following technical basics:
Apache version 2.0 or higher with mod_rewrite module enabled (allow override option should be set to the all value for the installation directory).
PHP 5.2.6 or higher with disabled safe_mode and open_basedir restrictions.
MySQL version 4.1 or higher. Version 5.x is recommended.
CURL PHP library.
Mcrypt PHP library.
Latest Version Ioncube Installed
Minimum recommended memory available for PHP: 128 Mb
Our technical support team is ready to give you installation and post installation support. Please feel free to mail us: info@onesourcesoftware.biz
MMe technologies, has in store a wide galore of PHP based scripts for small and medium businesses across different domains. With our ready made software, it will be easy for entrepreneurs to develop a web portal and connect with their clientele. Apart from this, we also provide customized solution for businesses, where we develop a website or script.
For the ready made script, we deliver the software only after the client has provided us with the details of the CPanel. Both the script and new projects, we provide have a single domain license and for this the client has to provide us the domain name. We provide the license file for that particular domain. The process that we follow for delivering the project are:
Install the software in the CPanel provided by the client
If the client intends to install the software then we provide a Zip file of the same
No charge for installation
In case, of any difficulty while installing the software, clients can contact us and we will provide you assistance. Irrespective of the nature of the project, we deliver the project within the stipulated time-frame. Through our services, we ensure a good experience for our clientele and look forward to a long-lasting business relationship.
Send Enquiry to info@mmetechnologies.com or call us : +91 7890-222 444 / +91 98300 31563
Our working strategy is a truly an interactive environment with our clients. We understand the value of time and strive to take the burden on our shoulders to accomplish the work in real-time. The development of the project is considered complete when you are thoroughly satisfied with the end result. We will fully support and always consult with you on new technologies that would provide maximum results.
Our Working Process
For Ready product, We will upload configure the buyer server once we receive full payment with in 24 hrs.
For custom product or customisation any product, We need time 7 days to 30 working days as per list of customisation and agreed budget with buyer.
All our daily work progress will be uploaded to one of our development server and you will get a link to check the progress.
We have weekly reporting system – Where the team leaders of the respective projects will update about the status and progress of the projects.
You can check the work and submit your feedback there – Our respective team member will get your feedback in their mail and report system message board.
For any kind of consultation you are free to talk with our project leader and with me at anytime

info@onesourcesoftware.biz