Event Management Software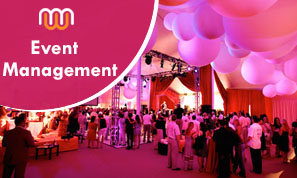 Why Event Website is Necessary?
Be it a business conference, art festival, concert and sporting event when the point of promoting comes it is an event website that can act as a good source for advertising events online.
Readymade Event Management Software
This software provides ready-made templates to create event website portal. It is user-friendly, hassle free and easy to manage product that can be customized according to the needs of a business owner. The event website will help buyers to endorse his event online. Events, conferences or trade-shows play a crucial role in each individual's life. Our event website PHP script is ably shaped PHP based product that has got high end inbuilt features and functionality like capture and stream event content, streamline event logistics, research and optimize meeting location etc, Thus through the help of this software a buyer can start marketing his events online, reach his targeted potential customers and attract them to spend their time and money in attending their event.
Home:

Archive:

Menu links - Home, Store Locator, Events, Contact us, My Account
Banner slider - Images
About us panel (text with images)
Current Events panel
Store Locator panel
Logo panel
Social media links

Store Locator

Banner Slider - Images (same as in home page)
Select City drop down
Display tagged default stores

List of stores with Text banner address, thumbnail & Google Map

Event Name - Text only
Event Descriptor - Text Only
Event Logo - Image
Event details

Conducted by
Venue
Start Date & Time
End Date & Time
Description - Text

Gallery

Display tagged default stores

Events:
Contact Us:

Current Events

Listing with Thumbnail, event name, city, venue, date, time & description
Event Name - Text only
Event Descriptor - Text Only
Event Logo & Sponsor Logo - Images

Event details

Conducted by
Venue
Start Date & Time
End Date & Time
No of tickets available (Ticket Event)
Ticket price (Ticket Event)
Description - Text
Prize Details
Promo code (Ticket Event)
Participate (Ticket Event) - Check Login
Accept terms & conditions (Ticket Event)
Email offline payment ticket pdf (Ticket Event)
FAQ's

Contact Us

Form
Title
Fname
Lname
Address
State
City
Pincode
Mobile no
Email
Subject
Message
Backend Features
Admin CMS:

Extra Features:

Upload images for banner slider
Upload logos for logo slider
Edit About us panel with text & Images
Store locator

Create / modify / delete stores with details, image & Text Banner (New, Sale)
Checkbox to tag default stores for store locator panel & page
Latitude + Longitude for location on Google Maps

Event

Create event

Choose type of event - Ticket event / Non Ticket event
Event Name - Text only
Event Descriptor - Text Only
Event Logo & Sponsor Logo - Images
Event details

Conducted by
Venue
Start Date & Time
End Date & Time
No of tickets available (Ticket Event)
Ticket price (Ticket Event)
Description - Text
Prize Details

Update Rank, Description, Value, Image

Promo codes (Ticket Event)
Code Name
Discount %age / amount
Expire after X uses
Expire on DD/MM/YY & HH:MM
Rules & Regulations & FAQ's
Ticket management (Ticket Event)

Ticket series code : XXXX
Maximum tickets available
Expiry within xx hrs if payment not updated from backend - send notification
Ticket format

Choose from 3 standard formats
Rules & regulations for print
Food coupons
Other fields depending on format

Tick-box to show on current events panel

Ticket payment update

Ticket No., Amount, Cash, CC ref, Cheque no, Bank, Branch, Received at (drop down store name), Cancel - Send email notification
Email / Notification

Archive Event

Update Winners & slide show sequence
Hide Event

User data

Seach / Edit / delete
Download in Excel format
Event Management Software Front End Member Login Credential
Event Management Software has been designed integrating all possible features and security issues. If you want to get a view of the front end & backend then please visit the front-end and dashboard prototype in following screen shots.
Front End Member login details:
Url: http://www.eventmanagment.scriptgiant.in/
Username: himangshu
Email: demoemployer@demo.com
Pass: vision

Send a request to get admin login Contact Us
In order to install Event Management Software in your system, the atmosphere should meet the support with following technical basics:
Apache version 2.0 or higher with mod_rewrite module enabled (allow override option should be set to the all value for the installation directory).
PHP 5.2.6 or higher with disabled safe_mode and open_basedir restrictions.
MySQL version 4.1 or higher. Version 5.x is recommended.
CURL PHP library.
Mcrypt PHP library.
Latest Version Ioncube Installed
Minimum recommended memory available for PHP: 128 Mb
Our technical support team is ready to give you installation and post installation support. Please feel free to mail us: info@onesourcesoftware.biz
MMe technologies, has in store a wide galore of PHP based scripts for small and medium businesses across different domains. With our ready made software, it will be easy for entrepreneurs to develop a web portal and connect with their clientele. Apart from this, we also provide customized solution for businesses, where we develop a website or script.
For the ready made script, we deliver the software only after the client has provided us with the details of the CPanel. Both the script and new projects, we provide have a single domain license and for this the client has to provide us the domain name. We provide the license file for that particular domain. The process that we follow for delivering the project are:
Install the software in the CPanel provided by the client
If the client intends to install the software then we provide a Zip file of the same
No charge for installation
In case, of any difficulty while installing the software, clients can contact us and we will provide you assistance. Irrespective of the nature of the project, we deliver the project within the stipulated time-frame. Through our services, we ensure a good experience for our clientele and look forward to a long-lasting business relationship.
Send Enquiry to info@mmetechnologies.com or call us : +91 7890-222 444 / +91 98300 31563
Our working strategy is a truly an interactive environment with our clients. We understand the value of time and strive to take the burden on our shoulders to accomplish the work in real-time. The development of the project is considered complete when you are thoroughly satisfied with the end result. We will fully support and always consult with you on new technologies that would provide maximum results.
Our Working Process
For Ready product, We will upload configure the buyer server once we receive full payment with in 24 hrs.
For custom product or customisation any product, We need time 7 days to 30 working days as per list of customisation and agreed budget with buyer.
All our daily work progress will be uploaded to one of our development server and you will get a link to check the progress.
We have weekly reporting system – Where the team leaders of the respective projects will update about the status and progress of the projects.
You can check the work and submit your feedback there – Our respective team member will get your feedback in their mail and report system message board.
For any kind of consultation you are free to talk with our project leader and with me at anytime

info@onesourcesoftware.biz